Calendar
Visite guidée "Martigny La Romaine"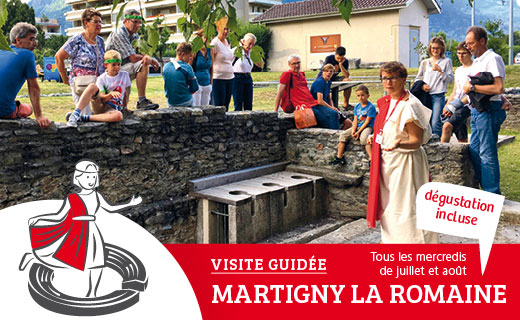 Martigny
Wednesday, 3 July 2019 - Staturday, 31 août 2019
Suivez l'ancêtre romain et découvrez l'histoire de la cité ainsi que ses trésors insoupçonnés tous les mercredis soirs de juillet et août*. Une dégustation de saveurs romaines est comprise. Profitez ensuite de suivre la visite commentée de la Fondation Pierre Gianadda gratuitement à 20h! Informations pratiques : Rendez-vous à 18h15 devant la Fondation Pierre Gianadda. Tarifs - Adulte: CHF 15.- - Enfant: CHF 8.- (6-17 ans) La réservation est obligatoire *sous réserve de modifications
The content presented here is provided and updated by regional/local tourist offices, which is why Authentic Valais is unable to guarantee the correctness of the contents.